THE MELODY September 2022
Dear Coral Gables Music Club Members and Friends:
I hope that everyone had a happy and healthy summer! I am delighted that we will be able to get together in person this Fall!
Our Artistic Director, Angelica Sganga, is organizing our upcoming season of Musicales! We are very appreciative of her hard work and dedication!
Thank you, Angelica!
I look forward to our upcoming Mid-day Medleys of Music & Mingling!  (how is that for a tongue twister)!  All will be held at the Coral Gables Congregational United Church of Christ.
We will begin with refreshments in the Fellowship Hall in October and May and then proceed to the Sanctuary for the Concert/Presentation/Musicale. Please note the dates of the upcoming Musicales: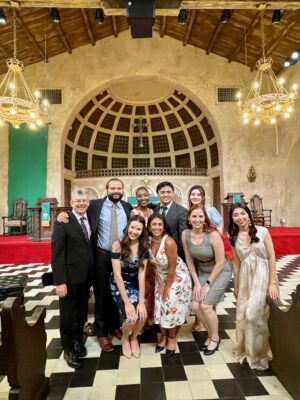 Tuesday, October 18
10:00 am – 12:30 pm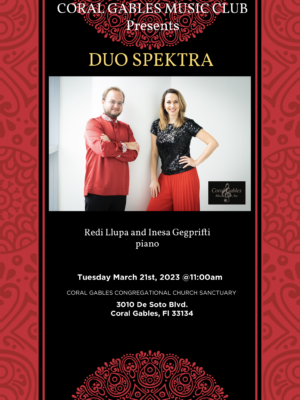 Tuesday, March 21
11:00 am – 12:30 pm
Tuesday, May 9
10:00 am – 12:30 pm
Our Annual Fundraising Holiday Party will take place again at the lovely Coral Reef Yacht Club on Tuesday, December 13! Last year was such fun! Angelica is working on some interesting entertainment that we hope all will enjoy!
This year we are asking members to get (more) involved with the silent auction items and baskets!  Please think about how we can make this a communal or interactive aspect of the Holiday fundraising event. Norma Cooper will be in charge of the raffle baskets and is asking for volunteers to make a basket.  She will help with ideas of what to put in the baskets and with the wrapping if you need that.  Call her with questions at 305-387-0859 or e-mail her at [email protected]
There will be an elves workshop Tuesday, Dec. 6 at Margaret Seroppian's house.  Please drop off your baskets there at 1434 Robbia Avenue, Coral
Gables, Tel: 305-740-0464.  Also, please bring your silent auction items to the October 18th musicale.
The Annual Student Scholarship Recital will take place the evening of February 9th, 2023 at the Coral Gables Congregational Church from 6:30-9:30pm. We look forward to another spectacular array of talent from our students!………
The Coral Gables Junior Music Club will meet at the Coral Gables Congregational Church Chapel:
Sunday, October 16                    
4:00 pm – 6:00 pm
Sunday, January 29               
3:00 pm – 5:00 pm
Sunday, April 23                     
3:00 pm – 5:00 pm
If you have any friends or family members who may be interested in joining, please contact Angelica Sganga at [email protected] If you would be interested in hosting these Junior Club meetings by helping with refreshments (to be reimbursed) please also contact Angelica.  It is a delight to see how much fun these young kids have sharing their love of music with each other.
SEE YOU SOON!      
 Ann, Margaret and Angelica
P.S. If you have not already sent in your dues of $45.00 for 2022-23, please send a check made out to the Coral Gables Music Club and send to Margaret Seroppian, 1434 Robbia Avenue, Coral Gables, FL 33146.  These dues support the high quality musicales we present throughout the year and the administration of our club which in turn, along with the Scholarship Fund, help us continue the tradition of sponsoring the education of so many talented young musicians.
Musicales & Events 2022-23
Tuesday, October 18
10:00 am – 12:30 pm                  
Fellowship and Sanctuary 
Tuesday, December 13       
11:00 am                        
Scholarship Fundraising Holiday Luncheon 
Thursday, February 9            
6:30 pm -9:30 pm   
Student Scholarship Recital 
Tuesday, March 21st              
11:00 am – 12:30 pm                 
Musicale
Tuesday, May 9                    
10:00 am – 12:30 pm             
Social & Musicale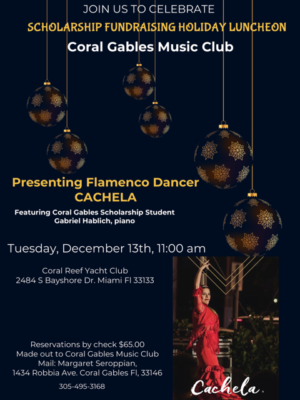 Please Join us in our Annual Coral Gables Music Club Scholarship Holiday Fundraising Luncheon. Tuesday, December 13th at 11:00 am at the Coral Reef Yacht Club 2484 S. Bayshore Dr. Miami Fl 33133!
Renowned Flamenco Dancer 'Cachela' will be joining us to present
a beautiful performance as well as our featured Scholarship Student
Gabriel Hablich, piano.
Reservations to be made by sending a check for $65.00 (made payable to Coral Gables Music Club) to Margaret Seroppian, 1434 Robbia Avenue, Coral Gables, Fl 33146
Let us unite to invite all of our family and friends so we can continue to help a great cause!! We have an incredibly talented group of young musicians on our scholarship group and this year they will be showcased on our Annual Scholarship Students Recital to take place February 9th, 2023 at the Coral Gables Congregational Church! Save the date!
Musically Yours,
Angelica Sganga
Coral Gables Music Club
Artistic Director/Scholarship Chair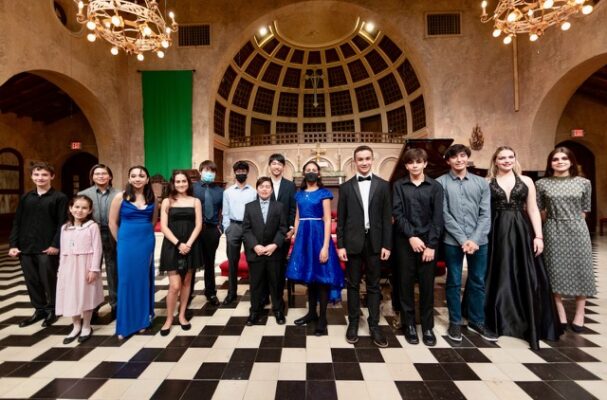 2022 Scholarship Recital! 
Thank you to all who made such a beautiful evening possible and Congratulations to all the students on a memorable performance!